Steven Lewis & Dietmar Dürk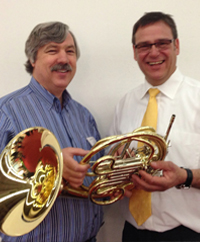 The backstory
Secrets are very powerful. For generations secrets have passed from Master to apprentice, insuring a flawless continuation of the "black-art". It is taboo to speak freely of trade secrets, but this is the powerful advantage of the LDx5 horn.

A great relationship began to develop at the 2003 I.H.S. in Bloomington, Indiana, between Steven W. Lewis (Orchestral Horns, Chicago, USA), and Dietmar Dürk (DürkHorns, Bingen-Dromersheim, Germany). Scott Bacon, former employee from DürkHorns, introduced Mr. Lewis and Mr. Dürk to each other and has been involved from the beginning of the business relationship, for what both are extremely grateful to him until today. The respect for each others' work, family values, honest and ethical business practices, and humility, led to a strengthening of trust between the two master craftsmen. In 2004, the two men met again in Valencia Spain and found themselves, oddly enough, directly next to one other in the exhibit hall. Many discussions about horn-making ensued, and over full-bodied red wines the original concepts of a joint venture were celebrated.

In the fall of 2004 plans for Mr. Lewis to visit the DürkHorns shop were solidified for early Spring 2005. When March came, so did Mr. Lewis, and the growing friendship sprouted exciting ideas to finish a horn sharing each others' most valuable secrets, techniques, and most importantly, their experiences.

In 2008 the Lewis & Duerk collaboration worked tirelessly to finish a new model to present at the Musik Messe in Frankfurt, Germany. The new modelLDx6 is a double descant horn built from the same philosophical goals represented by the now famousLDx5. The experiences of both master craftsmen played an enormous role in the development. Through years of experience and over a year of development, the LDx6 proved to be exciting for the many horn players who tested it at the Messe. Horn players from all around the world were very excited about the new model. The LDx6 double descant is yet again another milestone of the continued collaboration of Lewis & Duerk.

It is an understatement to say that the Lewis & Dürk horns are "special". The "hands across the ocean" concept reveals that working together and sharing the experience of years of hand work produces a unique platform to create a higher standard. Through this professional and personal relationship, Lewis & Duerk have been able to develop instruments with the musician in mind. The result of their efforts is the outstanding quality of sound, response on demand, and consistency from one model to the next. A Lewis & Duerk horn performs like a Lewis & Duerk horn.... unlike any other. The sales strategy is simple, as the instruments "speak for themselves". A strong relationship in connection with the bonding of trade secrets has become a new opportunity for the horn player.